Quick links
News
See the latest bids for three HB scores; bids close on 31 January 2018
16 December 2017 more…
---
A presentation by the Staffordshire Film Archive on HB on 6th December
19 November 2017 more…
---
The completion of Brian's symphony cycle on CD
11 September 2017 more…
---
Successful recording of John Pickard's re-orchestration
11 September 2017 more…
Brianiana
For those new to the composer, two people's experiences of discovering the delights (and occasional difficulties) of Havergal Brian:
A personal odyssey – Martyn Becker
A personal view – Donald Macauley
HB and why I believe in his music – Damian Rees
Reflections over 45 years – Martin Grossel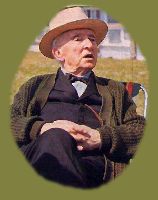 An article in the Evening Sentinel (7th Nov 1974) relates how the Stoke-on-Trent Highways Committee agreed to name a suitable street within the city after the Dresden composer Havergal Brian. It was however pointed out that street names should be limited to three syllables to prevent difficulties arising when residents telephoned for emergency services. A compromise was reached in which only the composer's Christian name should be used. Opposing the motion one Councillor commented that he had never heard of Havergal Brian and suggested that there were far more worthy people connected with social services or voluntary work within the city who should be honoured with street names. NL1
Off the beaten track: A pilgrimage to Odd Rode - Reginald Nettel.
Brian with your ploughman's lunch? Try HB's 'secret' pickle recipe.
We (the HBS) have written to Radio Stoke suggesting that they might use one of Brian's fanfares as a station call-sign. However, the programme organiser Geoffrey Lawrence considered the idea to have some charm but to be impractical… NL1
The first proletarian composer. See Brian's working class origins - Brown, Goodsell, Stevenson.
Lost score plot thickens! Ghost of Havergal Brian appears to medium!! More here.
Along with the Fittleworth Differential TP, Havergal Brian was honoured in 1996 by having a new bell ringing method named after him – more here, and here